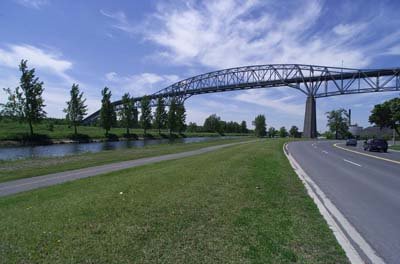 T

here have been many high speed chases, violence, injuries and deaths at or near the "killer crossroads" in front of the
Cornwall Island border checkpoint at Akwesasne. Women, men, youth and children are being constantly harassed and brutalized here. The Canada-U.S. border is illegally situated in the middle of our community.

Photo: Seaway International Bridge
Canadian Border Services Agents, CSIS, RCMP, Ontario Provincial Police, Akwesasne Mohawk "Indian" Police and other government "spotters" finger our people at the toll booth. We can be targeted for assault, harassment, false charges, delayed for hours for no reason, raped, groped or almost murdered. Recently more and more of our men are being chased and rammed by wild delirious "Indian" cops who are desperate to suck up to their colonial "masters". The band or tribal cops are ordered by provincial, state and federal cops to attack their own people and relatives.

The colonial agents assume that their targets "may be" carrying cigarettes in their vehicles. We have an inherent right since time immemorial to carry on our traditional trade and commerce. Even their own law, the Indian Act, respects our right to carry "taxes free" cigarettes on an "Indian reserve". They're putting a new twist to "smoking kills".

In the high speed chases the cops try to drive the target off the road by ramming their car, causing a flat tire or damaging the back end so the car loses or breaks its suspension or brakes forcing the car to go out of control. The cops continue even when told it's dangerous. The victims are driven off the road, killed, or, if they survive, are beaten up. They are then charged and arrested.

Last summer in 2008 non-native cops from St. Constant Quebec chased two young Mohawks onto Kahnawake, a Mohawk community near Montreal. The high speed chase led to a back road through a busy residential area . A 15-year old Indigenous boy riding on his bike was hit and killed almost instantly.

After a high speed chase on November 14, 2008, the OPP charged two Akwesasne Mohawk Police officers, Mike Biron and Kenneth Chaussi, with criminal negligence and dangerous driving causing death in a fatal crash on Cornwall Island at the "crossroads". The cops chased and rammed Gionet's minivan at high speed. Gionet tried to get away from these maniacs and smashed into the elderly couple at the crossroad. The collision explosion instantly killed a 77-year-old Massena couple, Edward and Eileen Kassian, and Dany Gionet, 21, of Saint-Jean-sur-Richelieu, Que. A judicial pre-trial conference is set for May 4 and a court date for May 28th.

In another incident, on March 19, 2009, Iohahiio, a young man from Kahnawake, was sentenced to 90 days to be served on weekends. He supposedly led "police on a high-speed chase" in February 2007 on Cornwall Island in Akwesasne. He was also charged with obstructing a police officer and dangerous driving. Both were withdrawn because they did not happen.

The Akwesasne Mohawk Police tried to pull him over after they saw him leaving a home on Cornwall Island that they allege had connections to someone in the tobacco business. They chased him across the Seaway International Bridge into Cornwall, around the traffic circle, and back over the bridge to Akwesasne. A camera on the cruiser shows that Iohahiio never drove dangerously. The cops rammed him at least three times, twice at the crossroads, causing extensive damage. Throughout, Iohahiio was speaking with his mother on his cell phone. To save his life she instructed him not to pull over until he was in a well-lit area. Iohahiio stopped on the road to the local arena. The cops pulled up and aimed their guns at him, broke his rear window and pulled him out.

Cops beating our people is common. In 1990 his father had a minor charge. When the NYS Police drove him from Akwesasne to Syracuse, they stopped eight times, took him into police stations along the way and severely beat him up.

Violence against Indigenous youth is escalating. Recently young Indigenous girls were sitting outside a Tim Horton's Coffee Shop in Cornwall. Two Cornwall police officers pulled over. The cop asked one of the girls, "What's in your bag?" She answered, "Why?" He insisted, "Show me what's inside". She refused. He got out, grabbed her bag, struggled with her and injured her thumb.

It is time to remove this "death trap" checkpoint. The cops appear to want to see more Indigenous blood, especially of our youth. U.S and Canada are trying to force us to carry their illegally issued border crossing identity cards on June 1, 2009. They know we have a right to resist this imposition. According to international law we must be consulted and agree of our own free will to become Canadians or Americans. So they are using their "tighten the screws" tactics. These "foreign" border guards are creating conflicts so they can illegally carry guns in the middle of our community. They need the peoples' permission to do this. It would be dangerous to put guns into the hands of guards who hate Indigenous people!
MNN Staff Mohawk Nation News www.mohawknationnews.com This e-mail address is being protected from spambots. You need JavaScript enabled to view it
This e-mail address is being protected from spambots. You need JavaScript enabled to view it Note: At this time your financial help is urgently needed and appreciated for the lawsuit against the Canadian government for assault of Indigenous women at the Cornwall border. Please send your donations to PayPal at http://www.mohawknationnews.com/, or by check or money order to "MNN Mohawk Nation News", Box 991, Kahnawake [Quebec, Canada] J0L 1B0. Nia:wen thank you very much. Go to MNN "Akwesasne" category for more stories on this; New MNN Books Available now! Purchase t-shirts, mugs and more at our CafePressStore http://www.cafepress.com/mohawknews; Subscribe to MNN for breaking news updates http://.mohawknationnews.com/news/subscription.php; Sign Women Title Holders petition! http://www.ipetitions.com/petition/Iroquois